Bald and Bankrupt is Not Nearly as Poor as His Name Suggests He Is, With a Travel Vlog That Generates Millions of Views Per Video
Categories:
Money
|
Published by:
Sean van der Merwe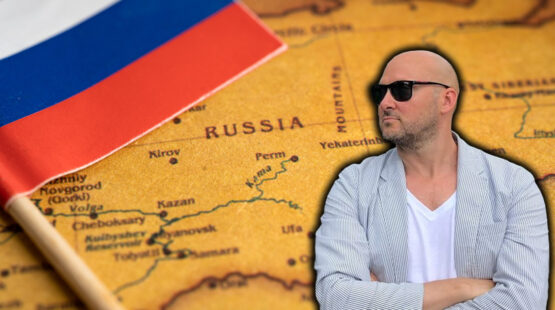 Bald And Bankrupt – an odd name for a high-ranking YouTuber, yet a name that invokes curiosity, and provides a summary synopsis of where this social media legend started his journey to fame in 2018. The story of Benjamin Rich is one of 'rags to riches'; a tale that goes to show that one's fortunes can turn for the better when one turns to out-of-the-box thinking.
Contrary to his name, though, Bald and Bankrupt's net worth reflects a portfolio of a wealthy man. His traveling escapades are always entertaining and even riveting at times. He's landed himself in hot water with the Russian police, come face to face with Afghan soldiers, and traveled among refugees trying to escape the terrors of the war in Ukraine. Nevertheless, his willingness to take his audience with him on his travels to less-than-welcoming locations is a recipe for success that has led him on a personal journey toward millionaire status.
Who is Bald and Bankrupt and What is His Net Worth Status?
Benjamin Rich was a former businessman who started a travel vlog on YouTube in 2018 after declaring bankruptcy. The name Bald and Bankrupt derived from both his physical image and his financial dispossession. Fortunately, things have been on the up and up and Bald and Bankrupt now has a net worth estimated at  between $2.5 million and $4 million.
He said after being asked why he chose to be known by this name:
"Well, the story is very simple. I think everyone has a fear of being online and what they are going to attack you with, so I thought – take away what they can attack you with. The first thing was the baldness obviously. I needed to own it, so to speak. As far as the "bankrupt" is concerned, I was made bankrupt. My business failed and I was made bankrupt just before I started the channel, which is actually kind of why I started it – to get myself out of bankruptcy. So bald, bankrupt… Let's go with that. It has a ring to it."
It's very difficult to argue with his success, given the multiple millions are subscribers and hundreds of millions of views he has managed to muster in his 5 years as a social media professional.
Rich is originally from England, where he lived until around 2020 when he decided to make Prague, in the Czech Republic, his new home. Benjamin is married for the second time, this time to a Belarusian beauty named Alina Adzika, who is 20 years his younger. She is often seen on his video travels and was even arrested with him in Kazakhstan.
The Genesis of Bald and Bankrupt
Rich's claim to fame was his travel vlogs in and around regions that belonged to the old Soviet Union. So, upon exploration of his earlier videos on YouTube, you'd find vlogs of travels to Siberia, Kazakhstan, Belarus, and many other East European nations. Many of the regions he'd visit are considered dangerous to most people living in the first-world countries of the West, though Rich admits that some of the scariest places he has ever been are places like downtown Atlanta and Nashville, in the USA.
He is very open about why he chose the Soviet Union as a starting block:
"I chose the Soviet Union because I began to be fascinated by the USSR when I was roughly 15 years old with the wall coming down, perestroika, all that kind of stuff. It was always my dream to travel across the former Soviet Union, but I never had the opportunity."
Bald and Bankrupt effortlessly communicates in the countries in which finds himself, which points strongly towards a strong military/intelligence background. This, unfortunately, Rich, prefers to keep secretive – which all points to the fact that he may very well have been involved in a special branch of the military in the past.
Bald, Bankrupt, and Ballsey
Benjamin Rich has certainly landed himself in some precarious situation on his travels. But this is likely to happen when you chase after the story no one else dares to report on. What other British citizen visits Afghanistan shortly after a war and hopes to be accepted in by the locals? Who runs towards war-torn Ukraine and boards a train with Ukrainian refugees to experience the humanity behind such violence? Well, Bald and Bankrupt does!
One escapade caught international headlines when Rich and his wife were arrested and detained by Russian police in Kazakhstan, after sneaking into an old Russian-owned space center. Rumors were spread that the couple received a 3-day jail sentence, but Rich refutes these claims. He said that they simply received a £50 pound fine each and were released. In fact, he was even allowed to keep his footage, which can be seen in the video below:
Bald and Bankrupt's Earnings as a YouTube Sensation
Has Benjamin Rich managed to climb out from under the shadow of bankruptcy? The short answer – is yes! When it comes to investigating the net worth of Bald and Bankrupt, one only needs to have a look at his YouTube channel and then calculate the average income the YouTuber would have earned for his views alone. At last count, his main YouTube channel has received over 550 million views and has 3.72+ million subscribers. That is huge by anyone's book.
The ad revenues vary based on your viewership, the number of ads you have in a single video, and a few more factors. Even at the bottom end, where creators earn only $2,000 per million views, Rich would have made over one million dollars. However, with the size of his channel and the length of his videos, he is most probably earning more than $5,000 per view, making his total revenues around the $2.5 million to $3 million mark, at least. But even this estimate may be a conservative calculation.
How Else Does Benjamin Rich Make Money?
The Bald and Bankrupt channel is not Benjamin Rich's only form of income though. When you get to this level of fame, endorsees are almost around every corner. While Rich is tight-lipped about these earnings, it is highly likely that he is making good money through endorsements and even donations.
Ben Rich also authored a book under the pseudonym of Arthur Chichester in 2018. The title was "The Burning Edge: Travels Through Irradiated Belarus." The book follows his travels through an area in Eastern Belarus that was affected by the nuclear fallout in Chernobyl. He explores contaminated towns and villages along the way, giving an account of what he experienced. The book is rated 4.5 stars on Amazon.com with almost 79% of the 883 people that left reviews leaving a 5-star rating. Sales derived from his literature are a nice add-on to his already successful social media revenues.
Living A Life of Luxury or Not?
If you want to find out how many fancy expensive cars Bald and Bankrupt has or how many great mansions add to the Bald and Bankrupt net worth portfolio, you will find slim pickings of any evidence that he lives large. Given his penchant for less glamorous travel destinations, it's not certain that he's someone who lives a flashy life at all. Well, there is certainly no proof of it, anyway.
Instead, he is interested in the underdog and spends a great deal of time showcasing cultures that really do not get much positive press these days. As such, the Bald and Bankrupt experience is certainly a unique one – one that sells.