Treasure's Found In Storage Units Make Americans Thousands of Dollars Each Year
Categories:
Money
|
Published by:
Hifza Muhammad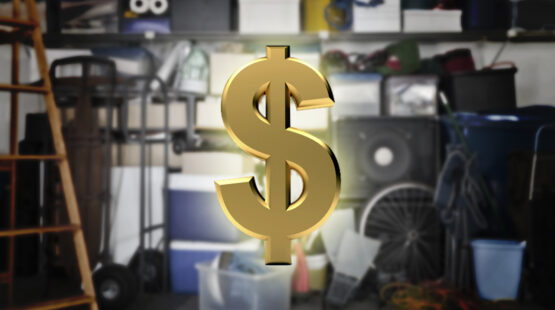 Storage Wars, a reality tv show, highlighted the most valuable finds in the storage auction industry and has been an inspiration for many to invest in this source of income. It's important to keep in mind that storage unit auctions can be competitive. Just like gambling, it's not always guaranteed that you will make a profit. However, if you do your research and bid carefully, you may be able to find some great deals and make money. Remember, it always pays to do your homework.
What Are Storage Units and Why Are They Auctioned?
Storage units are sheltered and secure lots, owned by storage companies, for the public to rent and store their belongings. These may range from appliances, furniture, antiques, and memorabilia to even automobiles as long it is nothing illegal. 
The rents are required to be paid regularly otherwise the units are legally eligible for repossession after a certain period. It is usually 30 to 90 days of overdue payments which varies between storage companies and regional bylaws. The renter is allowed to clear out the unit in case they cannot make further payments, otherwise, the stored items are auctioned off as a final resort. In the USA, 155,000 storage units are auctioned due to abandonment or non-payment every year. The 
Storage Units Can Be a Treasure Trove
There have been instances where bidders earned millions in return from abandoned storage units. While it is unlikely every unit will have something valuable hidden inside, some lucky bidders have scored massive finds from them.
A teddy bear was found with rolled-up bills totaling $300,000 within a unit won by a homeless couple for $10 who were looking to buy a couch for their camp in Arizona. A man in Long Island purchased a unit for less than $100, discovering a white wheel-less sports car that turned out to be one of the eight vehicles produced for the James Bond movie 'The Spy Who Loved Me'. This was sold at an auction to Elon Musk for $1 million.
A near-mint copy of Action Comics #1 comic, valued for Superman's first appearance, was found in a locker in California in 2011 that sold for $2.16 million. On Storage Wars, one auctioneer found a unit for $500 that turned out to contain a safe holding $7.5 million in cash. It was later returned to its original owner against a sum of $1.2 million.
What To Expect From Storage Auctions
Do a little research on items people usually find in storage units. This can be general information like knowing the lay of the land and things people found in storage auctions. This information is easily available from previous auction listings online.
Now that you have an idea of what you may find, look for avenues where you may sell these items and their prospective value. Online platforms like eBay, Craigslist, and Facebook marketplace are the most common. However, also check out websites like Offerup, LetGo, Poshmark, and Decluttr. Alternatively, you can try selling at pawn shops, flea markets, and garage sales.
There are YouTube channels that teach you about the values of certain items, how to identify high-value items and places where you can sell them. Learn from their experience. 
1.

Scoping out Storage Auctions
Storage unit auctions take place in person or online. Be on the lookout for lien sales/Storage auctions in the classified sections of newspapers, online forums/communities, social media pages, and newsletters about storage auctions.
2. Preparing for Storage Auctions
Research the contents of a unit before the auction, either through the auction listing or by visiting the storage facility in person. 
Keep cash on your person, as a cash payment is required usually immediately after you win the bid. In the case of online auctions credit/debit cards are usually accepted. Additionally, rent a truck or a van as you are required to empty the storage unit within a day or so. Keep a flashlight handy in case the unit shown before the auction is poorly lit.
Register for auctions in person or online by creating a profile and providing ID and proof of age.
3. Bidding on a Storage Unit
Keep in mind that you are only allowed to bid on a whole unit, not specific items, and bids are open. In-person bids usually start after the storage unit is opened for a short while for a visual inspection from the outside which does not fully reveal the exact contents of the unit. Similarly, online bids have photos of the unit and general descriptions but do give you more time to identify and research options.
Be sure to have an idea of how much you would want to bid, especially in online auctions as they may charge additional fees. The average estimated price of a storage unit at auction is $425, but they can go for as low as $10.
4.

Winning and Re-selling
In case you win a bid, be ready to clear it up within the time frame provided. After that, you can assess the items and sort them according to what you believe will sell. While some units contain highly valuable items, some might not contain anything of great worth.
Illicit materials are to be handed over to law enforcement and vehicles are required to be stripped for parts. Personal documents are usually retained by the company to return to the original owner.
5. Making Money from Storage Units
This is a labor-intensive job so be ready to get your hands dirty. Sort and segment the items you believe will fetch a good price. Some of the avenues to explore for different types of items are:
Poshmark

– a good venue to sell clothes, jewelry, and Fashion paraphernalia. They also list home décor and pottery items.

Gazelle

– This website deals in used cell phones, laptops, and related electronic items.

Craigslist and Facebook marketplace – These avenues are used for generally a wide array of items including furniture, appliances, electronics, tools, car parts, and large items you would want to sell locally. 

eBay and Amazon – Have collectibles, action figures, and rare, high-value merchandise? These e-commerce platforms might be your best bet.

Etsy

– It is an excellent place to sell vintage items and crafting supplies.
You can also donate items that you don't need or try your luck at flea markets and cultural centers. It is advisable to consult with experts and experienced auction bidders in order to find more platforms to sell or a higher valuation than your current options.