NBA Cheerleaders Put in the Work and Star on TV, But Do Not Receive the Salary You Would Expect
Categories:
Money
|
Published by:
Sean van der Merwe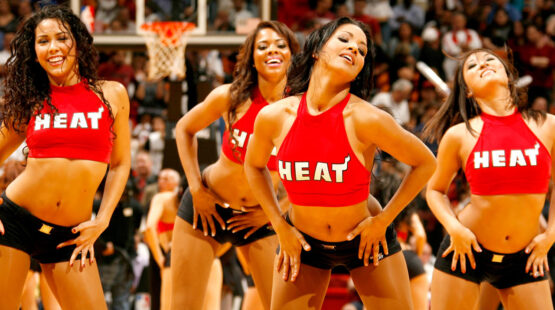 The National Basketball Association is a professional sports league made up of numerous components. Of course, there are the players, the coaches, and the management. But few people factor in the importance of boosting morale on the court and creating a rapport between the players and the spectators. Enter the NBA Cheerleaders.
While an NBA Cheerleader's salary figures may come nowhere near a player's wages, their role is certainly an important one and one which is associated deeply with the traditions of sport in America. Along with the team mascots, these dancers encourage the crowds to support their team during the game; entertaining them during big breaks in play so that no one can complain of boredom.
The show is often filled with vibrant dancing and challenging stunts, which is what separates cheerleading from mainstream dance routines. But have you ever wondered what it takes to make it in the world of NBA cheerleading?
What to Expect When it Comes to an NBA Cheerleader's Salary, Workout Regime, and Qualifications
There is quite a bit of criterion that goes into each component of being a cheerleader in the NBA. It's a highly competitive market and every team wants to make sure their squad is better than the next. As such the vetting procedures are high.
NBA Cheerleader Salary Requirements
Like any job in the world, there are numerous things that can determine the individual salary of an NBA cheerleader. Some of the factors include:
Experience: How long have they been with the squad and how much experience do they have in both dance and the industry?
Availability: Are they used more for events and appearances?
Popularity: Is the cheerleader a known name in the business and are they a hot prospect?
Skills: Are they ranked among the best in the business?
There is a massive disparity between the highest and lowest NBA cheerleader salaries. Inexperienced dancers earn anywhere from as low as $17k to the leading stars pocketing way over the industry average of $25K to $30K per year. It is determined that pay becomes far better after cheerleaders manage to stick it out for 2 years and more.
Pay can differ based on appearances, training, and gameplay. Some dancers will get between $200 and $650 for each match they attend and receive anywhere up to $100 per hour for a special event appearance. These fees do not include training time and other bonuses. The NBA team's performance is a big indicator of how much a cheerleader may earn, as reaching playoffs and finals will, of course, increase the game appearances. Also, if they are selected to star at an NBA All-Star game, a cheerleader could walk away with a hefty bonus per game.
Estimated Average Annual Salaries
Of the 30 teams in the NBA, only the San Antonio Spurs don't have dancers on the sidelines anymore. But they only did away with their former Silver Dancers in 2018. Each other team is represented though. Some of the teams have released average NBA Cheerleader salary stats, while others are tight-lipped about what their employees earn. Below is a table with the average salary paid per team for their cheerleaders.
| NBA Cheerleeding Team | Earnings |
| --- | --- |
| Atlanta Hawks: A-Town Dancers | $35,000 |
| Boston Celtics: Celtics Dancers & Green Team | $30,000 |
| Brooklyn Nets: Brooklynettes | Undisclosed |
| Charlotte Hornets: Charlotte Honey Bees | Undisclosed |
| Chicago Bulls: Chicago Luvabulls | $15,000 |
| Cleveland Cavaliers: Cavs PowerHouse Dance Team | $28,000 |
| Dallas Mavericks: Mavs Dancers | Undisclosed |
| Denver Nuggets: Nuggets Dancers | Undisclosed |
| Detroit Pistons: Automotion | Undisclosed |
| Golden State Warriors: Warrior Girls | $30,000 |
| Houston Rockets: Clutch City Dancers | Undisclosed |
| Indiana Pacers: Pacemates | $23,000 |
| Los Angeles Clippers: Spirit Dance Team | $23,000 |
| Los Angeles Lakers: Laker Girls | $30,000 |
| Memphis Grizzlies: Grizz Girls | $25,000 |
| Miami Heat: HEAT Dancers | $30,000 |
| Milwaukee Bucks: Energee | $25,000 |
| Minnesota Timberwolves: Timberwolves Dance Team | $15,000 |
| New Orleans Pelicans: Pelicans Dance Team | Undisclosed |
| New York Knicks: Knicks City Dancers | $35,000 |
| Oklahoma City Thunder: Thunder Girls | $20,000 |
| Orlando Magic: Magic Dancers | $15,000 |
| Philadelphia 76ers: Sixers Dancers | $15,000 |
| Phoenix Suns: Suns Dancers | $15,000 |
| Portland Trail Blazers: Blazer Dancers | Undisclosed |
| Sacramento Kings: Kings Royal Court Dancers | Undisclosed |
| Toronto Raptors: Dance Pak | $28,000 |
| Utah Jazz: Jazz Dancers | Undisclosed |
| Washington Wizards: Wizards Dancers |  $28,000 |
You need to remember, that in most cases, NBA cheerleaders hold down other jobs, which makes their earnings on the court a secondary bonus. The Atlanta Hawks are generally paid the best, which means they are able to live life with a little more luxury than those in other teams.
Did You Know?
You may think that NBA cheerleader salary figures are lower than you expected now, but they have improved significantly over the years. A big change was sparked in 2015, when Lauren Herington, former Milwaukee Bucks cheerleader, sued the team over bad pay, claiming that she was paid below minimum wage.
The issue was settled out of court, but it made a big impact on the earnings of cheerleaders in the National Basketball Association since. She claimed that she was only paid $65 dollars per home game, $30 per practice session, and $50 per special appearance. That was calculated at around $3 to $5 per hour, which was well below the minimum wage of $7.25 at the time.
Technical Ability and Appearance
Not just anyone can cut it as an NBA Cheerleader and earn a salary from dancing on the court. The teams are looking predominantly for women which excel technically when it comes to dancing and gymnastics. Many of the maneuvers required are based on ballet and hip-hop dancing moves. Therefore, a good background in dance is essential if you want to secure your sport here. In fact, there are professional schools around the states whose primary purpose is to groom and train the future pros of American cheerleading.
Unlike sports mascots, where it doesn't matter what you look like under the suit, cheerleaders all have a specific look about them. They are all athletically built and carry an air of confidence in their posture and demeanor. It is absolutely vital that each cheerer represents the team in excellence when it comes to how they present themselves.
To get an idea of what is expected on the court from the ten best NBA cheerleading teams in the US, watch the video below.
Workout Regime
Most professional cheerleading teams in the NBA hold two strenuous practices a week. These usually last for around 5 hours each. This is outside of the necessary fitness regime that each dancer needs in order to maintain a high level of fitness fit. As a result, most of the cheerers must dedicate hours to the gym each week. While the practice sessions are paid, gym time falls on the onus of the dancer, however, each team has access to gym equipment for free.
The Audition Requirements
Unlike some of the most famous NBA players, like Michael Jordon, or Shaq, NBA Cheerleaders need to be on form all of the time. A dip in their form stands out on the court. But there is no time they should be on point more than at their rigorous audition trials.
Prepping for the NBA leagues takes years of practice, dedication, and mastering the art of dance. But it all comes to a head on audition day. Various teams look for different things in their squads, but the main factor that is common to all requirements is that a potential member showcases a complete package.  Qualities they look for include:
Appearance (hair, make-up, figure/build, attire)
Technical ability
Confidence and drive
Round Up – Top it Off With a Good Mindset
Former pro-cheerleader, GeNienne Samuels is now a cheerleading coach that preps dancers for the big leagues in the USA. In an interview with NY Weekly, she suggested that success was all about the mindset. She said:
"If you have a habit of not giving up and always pushing forward in spite of rejection, then you're able to accomplish just about anything you set your mind to."
She also believes that it is all teachable skills, which means that those aspiring to become NBA cheerleaders and earn a salary doing so, can start training themselves from an early age already.