The Most Unforgettable McDonalds Toys of the 90s For Good and Bad Reasons
Categories:
Money
|
Published by:
Sean van der Merwe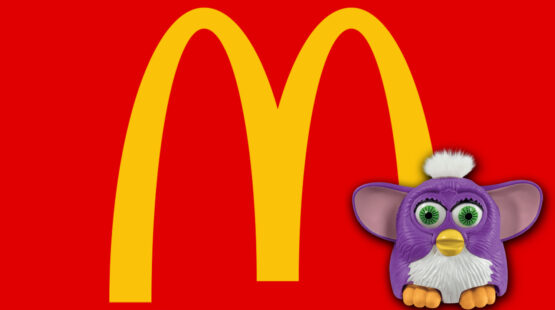 The McDonald's Happy Meal has always been a kiddie's favorite. The inclusion of some sort of playable paired with a takeaway meal has been a successful marketing tool for McDonald's for years. What child would pass up the chance for a free toy, especially when it's coupled with a mini cheeseburger or nuggets and fries? McDonald's set a trend that very few competitors have managed to replicate. The neatly packaged toy and treat idea introduced some unforgettable keepsakes along the way.
Perhaps some of the best and worst goodies were the McDonald's toys of the 90s. Many were hit-and-miss, and others were resounding success stories. One thing is for sure, looking back on what was offered certainly pulls on the heartstrings and brings feelings of nostalgia flooding back.
Seven 90s McDonald's Toys That Will Go Down in History
McDonald's was always quick on the draw, releasing licensed toys to match any trend that seemed to be on the rise in kiddy pop culture, including toys resembling characters in prominent children's TV shows or movies. Here are some that are difficult to forget… for various reasons:
1. The Longstanding McDonald's Mini Furby Collection –

1999
Furby is a brand of electronic robotic toy that was originally released in 1998 by a company called Tiger Electronics (they are now owned by Hasbro). The idea for the toy was taken from Warner Brother's Gremlins movies.
The original iterations were almost lifelike, as they could be taught to mimic speech, sneeze, purr, and even snore. By 2013, Furbys included a level of artificial intelligence in their programming, which meant they could unlock one of several personalities based on the inputs and interactions they received from their owners.
Due to the instant hit of these fluffy toys in their earliest days, McDonald's decided to release a range of mini Furby toys as part of one of their licensed 90s McDonald's toy collections. While not fluffy, like the original counterparts were, these toys were a hot favorite and a sought-after collectible.
2. Barbie and Friends –

1991
While some McDonald's toys of the 90s were hits, others were severe misses. Barbie, for instance, is an iconic doll brand that was first launched back in March 1959. Today, over 60 years on and it is still going strong. It is safe to say that McDonald's had no part to play in this success. In fact, if it were up to them, the doll would have most certainly lost traction decades ago.
While the food chain did enjoy more recent success running Barbie collectibles in 2019, the 1991 variation of the toy was a massive letdown. Unlike the typical 90s McDonald's toys, the Barbie replicas that year had no moving parts, which means the kids could not interact with them in any way. They served more as an ornament than a toy.
3. Inspector Gadget –

1999
Inspector Gadget was based off an animated television show that was popular in the early to mid-nineties. The half human, half robot detective always had some sort of gadget to suit any situation he would find himself in. This toy was showcased to coincide with the release of the feature film in 1999, which starred Matthew Broderick in the lead role.
The 90s McDonald's Inspector Gadget toy collection is probably one of the most successful runs to date. With each meal, a child would receive one component of the inspector. After collecting all 8 components in the set, he could be assembled into a fully-fledged action figure. Today, collectors are willing to pay hundreds of dollars for a completed figure in good condition.
4. The Lion King 2 –

1998
Much like Barbie, the release of The Lion King 2 movie introduced some rather underwhelming toys. Their very first Lion King, though hard toys, at least looked like the film characters.
It seems that McDonald's wanted to provide look-alikes that could be cuddled and adored the second time around. But all we were left with were small soft toys that looked like cheap knockoffs. Sure, you could tell that the toys mimicked animals, but it was not immediately apparent that they were tied to the Disney franchise at all.
5. Sky Dancers –

1997
Sky Dancers must be one of the most recognizable McDonald's toys of the 90s. These spritely belles were everywhere. Not only was the look and feel of the toy approaching something you would pay money for in the store, but they came with some workable mechanics.
With a tug of the lever and string on the side of the swan-like pedestal, the Sky Dancers would launch into the sky. With their wings spread wide, they would spin like helicopter propellers as they glided to the ground.
Okay, some of these toys may have had a small flaw in their design. Instead of taking off, many of them would only spin on the spot. Waste of money on the Happy Meal? No! These toys remained a hot items among young girls.
6. Teenie Beanies –

1997 (recurring)
 In the 90s the takeaway food giant released its Teenie Beanies soft toys. The quality of each Beanie was superb. They became one of the hottest trending collections of all McDonald's toys in the 90s. It's almost strange that you weren't charged extra for the quality of this toy, as they did with the Country Bears collection of keepsakes.
The collection was so praised that they have released it several times since 1997. Of course, the quality of the workmanship has grown along with the toy's legacy. The picture above shows the evolution of Tennie Beanies from its first release to its latest release. The older collections of this toy are still highly sought after and have even crossed the 4-figure mark in sales online.
7. 101 Dalmatians Collection –

1996
101 Dalmatians meant 101 collectibles. McDonald's decided to run their toy promo alongside Disney's release of the movie in 96. It goes down as one of the biggest collections in McDonald's history. It was so large in fact, that the store released a special display case for all the puppies, decked in black and white spots.
The only thing with this 90s McDonald's toy collection is that it is rare to find a completed one. Let's face it, it would have taken a long time and many Happy Meals to complete this. And that is hoping that you were never given doubles of a character.
Are McDonalds Toys of the 90s Worth Anything?
If you have full collections of some of the 90s McDonald's toys, you could rake in some money by selling them. Of course, like all toy appraisals, they better be in great condition. Estimated prices on the complete Inspector Gadget icon could fetch around $350, while Teenie Beanie collections have known to sell for $450 and more. In fact, sets like the Mini International Bears have sold for around $1,000 on eBay. Our table below will give you a great idea of how much your full collections of 90s McDonald's toys may be worth.
| 90s McDonald's Toys | Estimated Value on eBay |
| --- | --- |
| Furby | Up to $900 |
| Barbie and Friends | $1 each |
| Inspector Gadget | $350 each |
| The Lion King 2 | $3.99 each |
| Sky Dancers | $10 to $20 (collection) |
| Teenie Beanies | $350 to $1,000 (collection) |
| 101 Dalmatians | $100 to $200 (collection) |
As with all toys, the prices go up as they age, which means that the 90s McDonald's toys listed above could be worth far more in another decade or so. Of course they are not ancient artefacts, worth millions, but  like many things in life, their value is tied to their nostalgic attachment to the current adult generation.