Facebook Users Lose Millions Of Followers Overnight – October 2022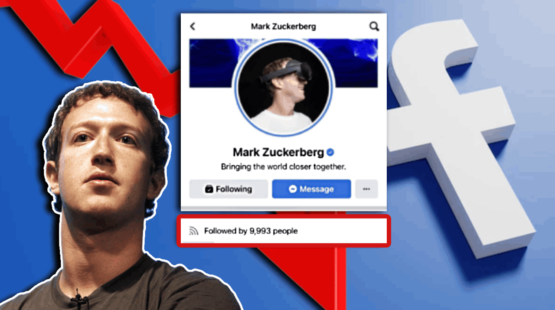 Mark Zuckerberg, the CEO of Meta, just lost 20 million followers on Facebook. However, he isn't the only one. Users worldwide report a loss of followers on their personal profiles. It appears everyone's followers have visibly been limited to about 10,000 people. Mark Zuckerberg's personal profile also lists only 9,995 followers.  
Data analytics platform CrowdTangle had already reported a decline in followers for Facebook profiles belonging to renowned publications on October 3 and October 4, 2022. There is speculation that this decline in follower count is simply a bug in the system. There is merit to these speculations because while everyone else is in a frenzy about the loss of followers, one Facebook user seems to have gained a whole lot of them overnight. 
Facebook Users To Be 'Regulated' By the Vietnamese Government 
While people try to make sense of what has actually happened, a Twitter user has presented her own theory.
Earlier last month, the Vietnamese government announced plans to tighten its control over information and news dissemination within the country via Facebook and Youtube. Vietnamese social media users with more than 10,000 followers on Facebook have been instructed to register themselves with the government. This move does not come as a surprise as the ruling Communist Party regularly censors media outlets and has strict national guidelines on social media usage. 
Facebook In Hot Waters
The new bug comes at a critical time for Meta. Facebook has already been losing popularity amid various allegations regarding privacy, selective treatment of users, and more. There have been allegations that Facebook has been utilizing a 'whitelisting' algorithm, allowing VIP users to evade the company's offensive material enforcement policy. This implies that people with significant wealth, status, and privilege have an unfair advantage over the regular Facebook user. Russia has also listed Meta (Facebook and Instagram parent company) as a terrorist organization, putting into question the true intentions of Mark Zuckerberg with his platform. 
Meta Valuation Drops Significantly For The First Time In 18 Years
Following the various controversies, Facebook has also seen its first decline in user growth this year resulting in a $175 Billion drop in overall company valuation. Revenue generation from advertisers is also fell by approximately $3 Billion in 2021. Apples privacy changes also hit Facebook negatively and the costs associated with user engagement have significantly increased for the company.
Meta's policy to curb the loss in user engagement has been to adopt features from popular companies such as YouTube and Tiktok. In a copycat move, Instagram and Facebook introduced reels to the platform. However, monetizing short-form full-screen content has also posed a challenge for Meta.
Are Your Facebook Followers Lost Forever? 
Thankfully, Facebook users can still view the actual number of followers by simply clicking on the followers' button. Even a quick search for someone's profile will show the real number of followers.
Meta has officially released the following statement following user complaints. "We're aware that some people are seeing inconsistent follower count on their Facebook profiles. We're working to get things back to normal as quickly as possible and we apologize for any inconvenience."