Walmart CEO Worried About Shoplifters Making a $3 Billion Dollar Dent in Walmart's Revenues Every Year
Categories:
Money
|
Published by:
Hifza Muhammad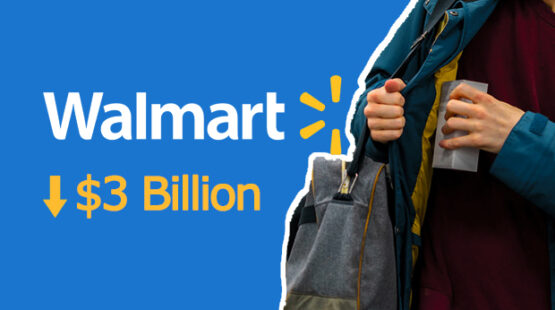 Just when things started looking up for the Walton family after the 2022 stock market loss, soaring retail theft has put Walmart in a tough spot. The world's largest retailer consistently loses 1% of its revenue to retail theft and the number may have gone up significantly. During an interview, Walmart CEO Doug McMillion disclosed that the rising shoplifting and fraud episodes at Walmart may lead to an increase in product prices and the eventual shutting down of stores.
SHOPLIFTING EATING INTO WALMARTS BOTTOM LINE
Shoplifting is not a new phenomenon at Walmart. According to a 2015 report, retail theft at Walmart costs the company up to $3 Billion every year. This year, however, shoplifting episodes have increased drastically at Walmart, and the company is facing a retail crisis. 
"Theft is an issue. It's higher than what it has historically been,"

-Doug McMillion; Walmart CEO
To tackle shoplifting and retail theft issues, Walmart relies on the support of local law enforcement as well as store safety and security investments. The company maintains cooperative partnerships with law enforcement in all locations to deter shoplifters. 
According to McMillion;
"If that's not corrected over time, prices will be higher, and/or stores will close,"
Low prices and a huge geographic footprint are the biggest attractions for customers who go to Walmart, according to a recent survey. If prices are increased and locations shut down, Walmart will most likely lose the monopoly it holds in the retail industry.
Walmart isn't the only company suffering from retail theft. Target reported a 50% increase in shoplifting events at their location costing the company $400 Million in lost revenues. Rite Aid, Home Depot, and Best Buy have also reported soaring shoplifting episodes at their stores. 
A $100 BILLION PROBLEM
Shoplifting has become a $100 Billion problem for retail companies in the US. Rising inflation and post-pandemic uncertainty have all contributed to retail inventory loss. Stealing from retailers makes matters worse. The retail industry has very low margins, around 2%, according to the National Retail Federation (NRF).
Since retail companies have to ensure profitability for investors, lost revenue due to stolen goods is offset by increasing product prices and in some cases, limiting operations. For the regular customer, this means more expensive products and a less enjoyable shopping experience. When retailers lose goods because of any reason, they have to compensate for those costs by increasing others. 
The NRF notes that most retail theft is being carried out by organized retail theft (ORC) perpetrators. Over the past five years, organized retail theft has seen an increase of 70.7%. In addition, internal theft by employees, return fraud, in-store shoplifting, and cargo theft all contribute to the problem. 
WALMART ASKS LOCAL LAW ENFORCEMENT FOR HELP

 
Since retail theft occurrence has increased, Walmart has begun to take safety measures to protect its inventory. They have AI facial recognition technology made by Evergreen deployed in stores. This technology analyzes surveillance camera footage in real-time to detect abnormal activity and alert store workers. The same technology is also deployed on the self-checkout counters to monitor customers. Although this has helped decrease in-store theft, Walmart and other retailers are still at risk of ORC and fraud.
In the case of Walmart, McMillion feels that local law enforcement should do more to help retailers curb this industry-wide threat. By making more stringent policies and taking quick action, law enforcement can help deter people from stealing from retail stores. Therefore, he has urged law enforcement and jurisdictions countrywide to create and enforce countermeasures against shoplifters and retail theft perpetrators.