NFT Gaming – The Future of Online Entertainment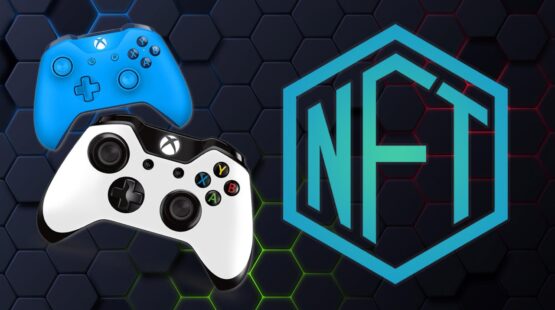 The online gaming world is certainly an interesting and exciting place to be if you are a person that enjoys new technology and innovation. Every year, new concepts find themselves in games, making this entertaining sub-culture a super-competitive environment, right now.
One of the latest digital crazes has wound its way into the video gaming industry, and it won't be long before we find decentralized crypto casinos embracing this technology for its advantage. That's right! NFT gaming is now here for those who enjoy unique rewards systems and added incentives for completing levels and fulfilling special tasks.
What is the "NFT" in NFT Gaming?
Some of you might be reading this article and have no clue what we mean by the term, "NFT", not to mention the terms NFT play or NFT gaming. So, we'd like to explain the concept before we move on to explain how it applies to video games and potentially NFT gaming casinos.
NFT stands for "non-fungible token".  As opposed to fungible tokens, like cryptocurrencies, NFTs are unique decentralized digital assets that are generally limited in number and unique in style. Where cryptocurrencies are available in the thousands and millions, some of the more popular NFTs that have gone to market have become limited edition assets.
NFTs are cryptographic virtual assets on the blockchain that are identified by unique identification codes and metadata for authentication purposes. Each type of token may be valued uniquely from the next, unlike cryptocurrencies, which hold the same market-related value from one token to the next.
These digital tokens can take the form of virtual sports memorabilia, artwork, music tracks, NFT gaming packs, and way more. In fact, many popular artists and sports figures have released their own ranges of NFTs. Many of these digital assets sell for exorbitant amounts of money at auctions and through trade portals.
We must be clear – NFTs are not physical in shape or form. You can only view the token image or listen to the token music track on digital devices like a PC or mobile phone, etc. Despite this fact, NFTs are a notable craze currently and many collectors enjoy the fact that they can secure bragging rights to limited assets that are not only unique in code but unique in innovation. NFTs are a world first, and that seems to be churning up the excitement even more. As such, NFT gaming is a brand-new and exciting venture for the present and future of the entertainment world.
The Popularity of NFTs Across the Market
As stated earlier, NFTs have been incredibly well received and have entered the market with a BOOM! Multiple artwork pieces have hit astronomically high selling prices in this market space. For instance, Beeple's digital collage called "Everydays: The First 5,000 Days" sold in a Christie's auction for $69 million. That price tag smashed the current record for the most valuable piece of artwork by a living artist. The ironic thing is that the painting cannot even be hung over the fireplace in its original state – it's completely digital.
Did you know? A recent Sotheby's auction saw a set of collectibles, called "Bored Apes" sell for $24.4 million. The collection consists of 101 unique digital images of monkey characters.
This is no isolated incident either, multiple sketches have gone for thousands of Euros. Special celebrity collectibles sell for a fortune every month, and sports memorabilia will never be the same again. This leads us to believe that NFT gaming will be a future trendsetter, too.
How NFT Gaming is the Future of  Video Games
Now for the exciting prospects. NFT gaming is becoming an increasingly popular trend – especially in quest games and RPG's. However, we can see the innovation evolving to accommodate games across all genres in no time. The main reason for this is that many of these types of games are offering valuable assets to players in turn for their dedicated NFT gaming interactions.
So many of these play-to-earn NFT gaming titles provide conventional gameplay for users but with a state-of-the-art twist. This includes a mechanism for those who want more control over their in-game assets, like skins, characters, special weapons, and much more.
The NFT gaming community can generally lay claim to the ownership of specialized assets in several ways. These include: Purchasing them in the virtual store, creating them in certain games, and earning them through level-ups or task completions.
The difference between NFT gaming assets and standard virtual gaming add-ons is that, like cryptocurrency, the assets are not modifiable at a later stage. In fact, there is a number of advantages of NFT gaming assets over normal digital gaming rewards.
Advantages of NFT Gaming Assets
NFT gaming assets cannot be altered or deleted after they have been issued. Gone are the days that a game maker can take back or modify a skin or weapon because they feel it needs a change.
NFT gaming technology provides true ownership of an item. As long as you have the code in your wallet, it belongs to you and you alone.
The market provides a lucrative business for professional players. Because players own the assets, they can sell them to their fan base. The most limited assets can fetch a hefty price from enthusiasts.
NFT gaming assets also promote community. The community can get together, showcase and trade their assets. This provides a whole new dimension to the gaming environment.
Interesting Fact: Market-leading company, Polkadot, is currently working on an innovative add-on to their "Effinity" blockchain that will allow players to transfer their NFT holdings between different blockchains. Parties will not need a specific MetaMask wallet to access their NFTS when the technology is complete.
The play-to-earn model provided by NFT gaming options is a great new niche business for young entrepreneurs with a prowess for gaming to earn an income.
NFT Gaming Options
There are some tremendous games in the NFT gaming sphere. Axie Infinity is one of the most popular right now. It borrows from the Pokémon duelling concept. Players breed and buy unique digital pets in order to battle them online against the gaming community. Each pet has its own genetic imprint, rarity, characteristics, and strengths. Players need to pay to breed. if they are successful in introducing a new breed of Axie, they could be set for huge success and possibly a top payday.
God's Unchained is another budding NFT gaming winner. It's free to play, but players must purchase NFT trading cards to pit against their rivals. Players can also win NFTs by winning their battles.
There are plenty of other top NFT play options out there too, including Splinterlands, Alien Worlds, CryptoKitties, The Sandbox 3D, and many more.
Interesting Fact: Tech company, 'Vines', has taken the NFT gaming market a step further. They will be releasing a console that takes virtual NFT cartridges. That's right! The actual game, itself, will be a digitized asset that you can store in your wallet! The initial offerings will be classic-game options, like 'Pac-Man' and 'Asteroid', according to sources, but each NFT will be distinctive in some way.
How NFT Gaming May Make its Mark on the iGaming World
It is not long after innovations appear in the video gaming sphere, that the iGaming world finds good use for them. There are ample perks that these digital assets could bring to online gamblers to make their casino and poker play more interesting. These include:
1. Asset Collateral
Because NFTs are valuable in many cases, certain digital assets may be worth casino credits. Instead of exchanging crypto for credits, it is possible to monetize NFT gaming assets. This way, you could make your deposit by trading an NFT for your chips.
2. Loyalty Rewards Incentives
Like with video games, levelling up at crypto casinos could provide players with unique NFT gaming rewards. Because they are blockchain-based, these incentives can load to your wallet in seconds. You can then use these NFT cards to boast of your status. You may even receive access to restricted perks as a result of the ownership of exclusive assets.
3. Collectible Game Prizes
Soon, casinos may offer up NFT gaming prizes instead of crypto rewards. This could be applicable to both casino and poker tournaments. Specialized NFTs have a high likelihood of increasing in value, offering the player an investment as a payout.
4. Account validation
VIP players and gamers with a good reputation could win NFTs that are recognizable by the industry. This way, a player's status follows them and the respective casino can reward them appropriately the moment they sign up and submit their NFT gaming credentials.
Our Round-Up of NFT Gaming
At PokCas, we love being at the forefront of the iGaming industry. The current pursuits in the gaming world have got us all excited about the future of casino and poker play. NFT gaming holds some promising prospects for the future and is sure to take your online slots gameplay or roulette gaming efforts to a new level. We are going to keep our eyes on this new gaming segment, so be sure to get the latest news on NFT gaming for the iGaming industry here first.