Keanu Reeves Jumps His Way To $400 Million In Net Worth With His New Movie "John Wick: Chapter 4"
Categories:
Money
|
Published by:
Hifza Muhammad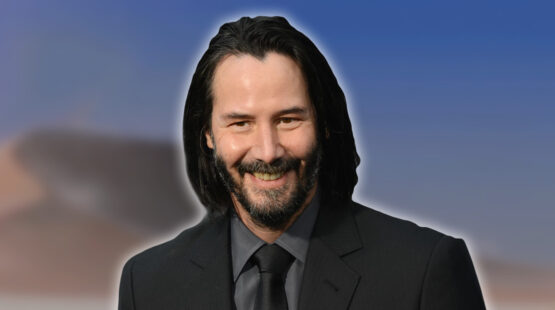 Keanu Reeves has held viewers' attention for more than 30 years. The Canadian actor has starred in everything from screwball comedies to gruesome action movies. He has made a name for himself through his acting abilities and charming personality, appearing in blockbuster films including the popular series 'The Matrix', and 'John Wick'. 
Keanu Reeves' estimated net worth is $400 million. Most of his net worth comes from his successful career in acting. A man of many talents, he has been an avid seeker of opportunities to venture into several fields to learn and grow. Keanu Reeves remains a humble, hardworking, and highly compassionate individual. Like Brendan Fraser, he is one of the most loved actors in Hollywood.
A Look at Reeves' $400 Million Net Worth Through Investment and Real Estate
Reeves' success in Hollywood has made him wealthy and earned him critical acclaim. He was a nominee for many awards, including a Golden Globe for his role in 'The Matrix'. His ability to bring depth and complexity to his roles has made him a sought-after actor in the industry.
He has appeared in more than 70 films and television shows. His movies have grossed over $4.9 billion worldwide. Keanu Reeves made $250 million for his role in The Matrix series. 
"I've been really fortunate to be able to do different kinds of films in different scales, different genres, different kinds of roles, and that is important to me." – Keanu Reeves
Keanu Reeves' Highest-Earning Movies
As Keanu Reeves' career progressed and his popularity increased, his pay check from each movie increased exponentially.
| Keanu Reeves Highest Earning Movies | Earnings in USD |
| --- | --- |
| Young Blood  | $3,000 |
| Bill & Ted's Excellent Adventure  | $95,000 |
| Speed  | $1.2 Million |
| Johnny Mnemonic  | $2 Million |
| The Devils Advocate  | $8 Million |
| The Matrix Trilogy  | $250 Million |
| John Wick & John Wick: Chapter 2 | $3-4.5 Million |
| John Wick: Chapter 3  | $14 million |
| John Wick: Chapter 4  | $15 Million |
Neo Breaks the Matrix
Apart from acting, Keanu Reeves is also involved in other business ventures. 
He co-founded Arch Motorcycle Company in 2011 with Gard Hollinger. It produces high-end, custom motorcycles. The company's bikes can cost anywhere from $78,000 to $120,000, which has helped to increase Keanu Reeves' net worth. 
Reeves started his own production company, Company Films, in the 1990s. It has produced several movies, including 'The Private Lives of Pippa Lee' and 'Henry's Crime'.\
His Estate
He owns multiple properties in Los Angeles. A $5 million house in Hollywood Hills which he purchased in 2003. The house has four bedrooms and three bathrooms, and it also features a pool and a private screening room. 
In 2015, Keanu Reeves sold his Beverly Hills home for $5.4 million. The property is a 4,000-square-foot estate with four bedrooms and five bathrooms. It also has a swimming pool, a spa, and a tennis court. He is also the owner of a luxury apartment in New York City. It has four bedrooms and three and a half bathrooms. Reeves purchased the condo for $5.6 million in 2018.
Revving Rides: A Look at Keanu Reeves' Cool Cars and Bikes
Keanu Reeves has been known to own and drive a variety of automobiles over the years. Some of the cars he has been seen driving include:
| Keanu Reeves Car Collection | Value in USD |
| --- | --- |
| Volvo 122 Amazon | $24,500 |
| Porsche 911 Carrera | $117,000 |
| Ferrari California T | $300,000 |
| Bentley Continental GT | $320,000 |
| Ferrari 488 GTB | $320,000 |
| Bugatti Veyron | $1.2 million |
| Ferrari LaFerrari | $1.5 million  |
| Arch KRGT-1 | $78,000 |
An Early Life of Grief Ignited Reeves' Passion For Philanthropy
Keanu Reeves had a tumultuous early life marked by tragedy and upheaval. When Keanu was three years old, his parents divorced, and he and his mother moved to New York City. In 1991, his younger sister, Kim, passed away from leukemia. In 1998, his girlfriend, Jennifer Syme, died in a car accident. The loss of his sister and girlfriend profoundly impacted Keanu Reeves. 
"Grief and loss, those are things that don't ever go away. They stay with you forever." – Keanu Reeves in an Interview with The Guardian
The actor channeled his grief into various philanthropic efforts. He donated 70% of his earnings from The Matrix to leukemia research in honor of her late sister. He set up a private foundation aiming to help children's hospitals and cancer research. He has also donated substantial sums from his movie paychecks to the film crew. His generosity towards his 'on-set family' is claimed as appreciation for their hard work behind the camera. He also donates to various charities including PETA, Stand Up to Cancer telethon, and the SickKids Foundation. 
"Money doesn't mean anything to me. I've made a lot of money, but I want to enjoy life and not stress myself building my bank account. I give lots away and live simply, mostly out of a suitcase in hotels. We all know that good health is more important." – Keanu Reeves
Besides his philanthropic efforts, Reeves has also been generous with his time. He has visited children's hospitals and spent time with patients. In 2020, Keanu Reeves donated $1 million to the children's cancer charity, Camp Rainbow Gold.  Keanu Reeves' philanthropic contribution to society demonstrates the impact that celebrities can have on important social causes.