PokCas Exclusive Interview with the Vice President of Crazy Tooth Studio
Categories:
Interviews
|
Published by:
Sean van der Merwe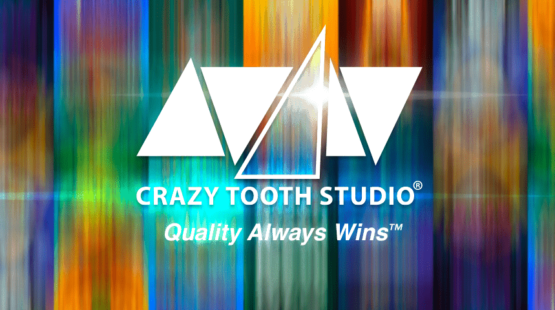 Today we will be interviewing a VP of Crazy Tooth Studio which is a game development studio founded in 2011.
Crazy Tooth Studio
Hello Will, could you please tell us more about yourself and your history with Crazy Tooth Studio (CTS)?
Hello! First of all, thank you to PokCas for spotlighting Crazy Tooth Studio. My name is Will Burrows and I am the Vice President, Design here at CTS. I joined the studio shortly after its inception in 2011.
What are CTS' greatest achievements to date?
We just celebrated ten years as a studio, which in and of itself is an achievement. What has kept our studio moving forward is our ability to stay nimble and look for new ways to bring our exciting content to more players. In 2018 we turned our attention to the iGaming market and have had a blast delivering twelve unique titles through a partnership with Microgaming – with more on the way – to our largest audience ever.
The iGaming Market
Why do you think CTS stands out in the iGaming market, what makes you different?
Our experience with developing innovative games in a way that bridges the old and new helps us bring exciting experiences to a market with a lot of content. We develop our titles with all disciplines working together from beginning to end to make sure that we're giving new ideas the best chance of success.
How do you trigger the player's fun factor? What do you consider fun when it comes to casino games and their features such as music, bonuses and overall gameplay?
It takes everything. The math model, or "ride", is the foundation but it takes the art, animation, sounds, music, and careful orchestration to bring a game fully to life. When everything is working together, that's when the game has a chance to grab players.
What are the biggest challenges of being a casino game developer at this point? Do you think that there will be additional challenges in the near future?
As more studios come along bringing more content to market, the challenge will always be to find an audience with each title. With the successes we've had, we're starting to build a reputation for quality, unique iGaming titles – growing that reputation, and our audience along with it is our prime challenge.
Cryptocurrencies and Online Casinos
What do you think about cryptocurrencies in general and how do you think they mix with the casino games? What do you think will happen to this combination in the future?
There's no doubt that cryptocurrencies are solidifying their place in economies globally. When it comes to iGaming, it could be seen as just another way to play – but cryptocurrencies could offer more than that by way of in-app purchases and advertising as well as more avenues for affiliates to incentivize players to try new games and casinos.
Final Words
What else would you like to tell our readers about you as a developer and why do you think they should prioritise your games?
We love making games. Our passion for what we do is apparent in our titles and we hope players will continue to seek them out, knowing that a great gaming experience awaits them when they do! Look out for Lucky Clucks™ featuring BIG BuildUp™, Golden Hook™ featuring WiNCREASE™, and Rhino Rilla Rex™ featuring Team-Up Reels™ coming later this year!
Follow us on Instagram @CrazyToothGames or visit www.crazytoothstudio.com for more!
Thank you, PokCas!
Thank you for your time, we will be looking forward to seeing your upcoming game releases!