Winamax is one of the best poker rooms in the industry and it has a lot of the qualities that almost all other poker sites are lacking. However, they have quite a different approach and mainly focus on the French market. So do they have what it takes to be the best? Read our review to learn about their games, promotions, rakeback and more.
Download and Bonus
*Make sure to clear the cookies beforehand to avoid missing additional benefits.
After signing up and making the first deposit you will receive these bonuses. For some of them, you will need to have your documents identity verified. Also, the €10 gift which you get has no playthrough (wagering requirement), so you can play with it as much as you want to cash out at any time! Awesome!
100% up to €500 deposit welcome bonus (more with future deposits during special MTT series)
€10 for free if using this PokCas link (sometimes you will receive even more freebies)
You and your friends will be well rewarded if you invite them by using a referral program (cash and loyalty points for you and some money for them)
Winamax Review
These are positive and negative observations about Winamax Poker Site. This review will give you an impression of what to expect.
If there is something you don't like – get in touch with us and we will suggest something else for you.
Good-looking, unique and very smooth software and mobile app
An average rakeback
Awesome daily MTT schedule for medium stake players
Should focus more on catching scripters in Spins (Expresso)
Only focused on the French market (no decent external promotions on partner sites)
Outstanding internal promotions
Mainly offer buy-ins for low/medium stake players and don't cater too much to High Roller players
Unavailable to the UK, USA players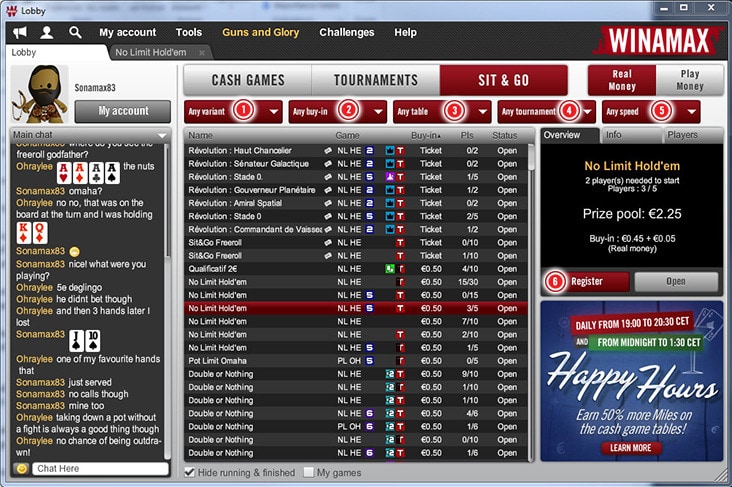 Winamax Mobile App and Desktop Software
Winamax has extremely beautiful software, a very nice lobby, tables, notes system – absolutely everything. Their mobile app is one of the best in the industry and is only lacking a player note function. It has an amazing weekly MTT poker schedule for small/medium limit players with big prize pools, cash and expresso (which is their version of spin and go). Players will not be bored since this poker room is very popular. Various leaderboards are running and you can exchange your VIP points (miles) for fantastic prizes so you will be well rewarded. The biggest possible rakeback (cashback) is about 34% and is extremely hard to reach, so even to get 20-25% back you will have to put in a lot of effort.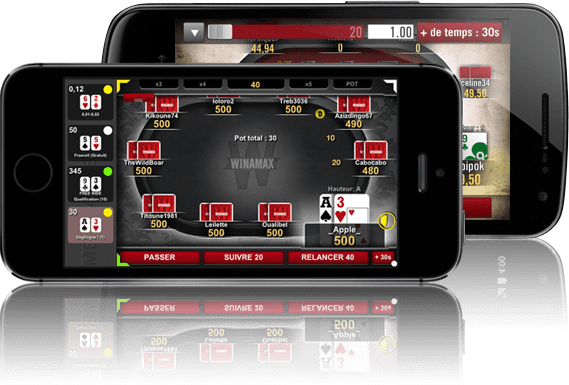 Poker Games and Tournaments
These are the most popular games on Winamax poker room. Quite a wide range of options. However, there could be more high stakes poker tournaments (MTTs) with juicy prize pools for High Stakes players (just like on PartyPoker, PokerStars and Natural8).
Expresso games (Spins)
No-Limit Hold'em, Pot Limit Omaha (including Hi/Low) Cash Games
Go Fast Cash Games
Knockout Tournaments
Deepstack Tournaments
Hyper, Turbo & Regular Tournaments
Kill The Champions Tournaments
Two in one Fish&Ship Tournament
Monster Stack Tournaments
Pot Limit Omaha Tournaments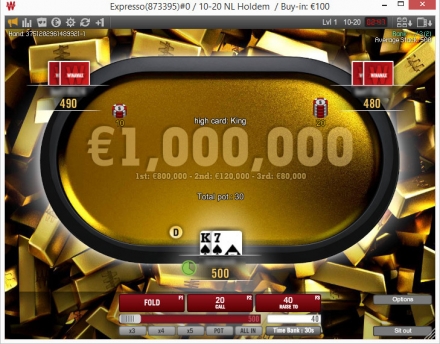 Winamax Expresso
Spin & Go Poker is a format that started right here, Winamax were the first ones to introduce Expresso games and change the poker industry. After their huge success PokerStars and then later PartyPoker, Unibet and other poker sites introduced games with the same format. Click Here to learn more about this format.
Spin and Go: 500 chips and 3-minute blinds (classic version)
Prize pools reaching millions
Easy to learn, don't take too much time
You don't get bored and can easily find time to play
Easy to play on mobile
Expresso Spins
Winamax has very nice expresso 3-man spin and go games. However, they should do a better job at catching cheaters who use illegal 3rd party programs. They have massive prize pools and decent traffic, so that is the main thing you should remember if you plan to play expresso games. Or if you want to learn more about alternative poker sites that have such games, then click here to learn more.
Good concept, inventors of Spin and Go format
Spectacular graphics
 Average traffic would be even better if they would start working with non-French partners
Sweet prize pools (up to 1 million euros) and special promotions
Winamax should step up and ban players who use illegal programs which give them an advantage
Winamax Expresso Challenge rewards the biggest winners who play their Expresso tournaments! €5,000 shared out every day. It is a nice added value for active players, but it could be a little bit more and lower stakes players should have a chance to win more.
Expresso Nitro
Winamax Expresso Nitro are basically the same classic "Spin & Go" type of games, but with a twist. You have 1-minute blinds instead of 3 and 300 chips instead of 500. So saves you time, gives you more action and adds more variance. If you are a new player and can push your stack well in these games, then you might want to stay with Nitro instead of a classic version. But if you want to overplay your opponents, hate losing because of variance and don't mind slightly longer games, then consider playing the classic version. Some players also choose to play both depending on how they feel or how much time they have.
Same as the classic version but quicker (300 chips, 1-minute blinds)
Requires similar strategy, but you have to be less-selective
Same massive prize pools
Very fun, lots of crazy players
High variance, your tilt control will be tested
Winamax Go Fast
Go Fast is a Zoom Cash Game alternative for Winamax players. These are fast games where you are always seated at a different table once you fold your hand. Only No-Limit Texas Hold'em format is available and the limits are up to €2/€4, which is quite good since they used to be way lower in the past. However, if you are playing 1/2 or 2/4 games, you will want to play during peak hours to find more players.
Winamax Series
Around once a season Winamax is constantly running its MTT Poker Tournament Series called "Winamax Series". It usually has around 13-15 Million in guaranteed prize pools and this number seems to be growing every year. These MTT series are awesome for low and medium limit players. Sometimes, they will also have a 1,000 Euro buy-in event for High Stakes players, but that does not happen all the time so that's a bummer. It became a tradition for Winamax to offer special tickets and a bonus who use a WSERIES bonus during the series. Normally you deposit 30 – 120 Euros and the more you deposit, the more and the better freeroll tickets you get. And those are not ordinary freerolls, they award lots of tickets to a juicy main event (normally all three freerolls will have at least 50,000 euros in tickets). Besides that, you will also get a reload bonus which will give you extra value. Besides these Series, Winamax sometimes runs other kinds of smaller MTTs series too.
Winamax Rakeback
By playing on Winamax, players can collect "MILES" and gain statuses within the Winamax Poker VIP program!  By earning MILES you can get access to special freerolls, buy merchandise, cash prizes, poker software licenses and books plus other goodies. This is a list of all VIP status requirements and their multipliers + rakeback.
CHROME:

 20 to 69 miles per month (1x multiplier) 5% Rakeback

ALUMINIUM:

 70 to 249 miles per month (1x multiplier)  5% Rakeback

BRONZE:

 250 to 999 miles per month (1.25x multiplier)  6.25% Rakeback

SILVER:

 1,000 to 2,999 miles per month (1.5x multiplier)  7.5% Rakeback

GOLD:

 3,000 to 5,999 miles per month (2x multiplier) 10% Rakeback

PLATINUM:

6,000 miles and over per month (2.5x multiplier) 12.5% Rakeback
DIAMOND I (carat): from 50,000 to 99,999 miles per year (3x multiplier) 15% Rakeback

DIAMOND II

(carats): from 100,000 to 249,999 miles per year 17.5% Rakeback

DIAMOND III

(carats): from 250,000 to 499,999 miles per year (4x multiplier) 20% Rakeback

DIAMOND IV

(carats): from 500,000 to 999,999 miles per year (4.5x multiplier) 22.5% Rakeback

DIAMOND V

(carats): from 1,000,000 to 2,499,999 miles per year (5x multiplier) 25% Rakeback
RED DIAMOND: 2,500,000 miles per year and up (6x multiplier) 30% Rakeback
Winamax Rake
Winamax has quite a high rake for satellite tournaments (10%) which we don't like. The last thing you want to do is sacrifice a big portion of the buy-in when trying to turn a small investment into a more expensive tournament ticket or entry. Cash Games have an "okay" rake, it has a cap so it won't be too bad. And Expresso Spins could have a slightly better rake, but it is also quite acceptable when compared with other sites.
Smaller tournaments and satellites have a 10% rake, while more expensive ones will have a lower rake
Cash Games have a 6.5% rake with a Maximum CAP of €1.5 – 4 depending on the limits and the amount of players (more players and higher limits means a higher rake CAP)
Micro Stakes Cash Game Players have a €1.5 CAP which doesn't change (up to €0.10/€0.20 limits)
Expresso Spins have a 7% rake (except for a €0.50 Limit which has an 8% rake)
Restricted Countries
Winamax requires you to verify an EU Bank Account or a Skrill account plus your address (if you have verified your address in the allowed country, you may be allowed to play from some restricted locations). For example, you live in Canada (which is not a restricted country) or the United Kingdom (which is), you will be able to play in both of them for as long as you can verify your address in one of the allowed European countries such as Germany or France. You will need to provide proof of address (Utility Bill, Phone, Bank Statement – whatever has a recent date, your name and address). You will also receive a code by mail which you will have to enter.
United Kingdom
Lithuania
Netherlands
Cyprus
Ireland
Greece
Poland
Latvia
And other…
VIP Boutique
Winamax Poker site has a boutique (VIP shop) where you can use Miles (loyalty points) to get cool prizes. Winamax frequently updates this shop so it changes frequently, plus you can find goodies that are custom made and cannot be found anywhere else outside Winamax Boutique. This is quite a positive thing since they invest time in creating very awesome merchandise which looks awesome. However, some of it is very expensive and requires lots of points. This is a list of some examples of what you can find there.
Tournament tickets for you or your friend
Real Cash
Poker Gear: Dealer Buttons, Cards, Poker Chip Sets
Poker Clothing: Winamax Gloves, Scarves, T-shirts, Hoodies, Shorts, Hats, Belts, Bags, Shirts, Sweatpants, Jackets and more
Poker Goodies: Travel Bags, Towels, Sunglasses, Bluetooth Speakers and more
Poker Books such as: "The Mental Game of Poker" and "Poker Satellite Strategy"
Poker Trackers and Software such as Poker Copilot, Holdem Manager, PokerSnowie, PioSolver and more
Winamax Freerolls
Winamax does a very good job at providing high-value freerolls to players. Some of the tickets for massive freerolls with lots of expensive entries are given to depositors who use a special code (this usually happens during the MTT series). They are also known for running massive freerolls free of charge, especially during the summer season. For quite a few times in the past, they have awarded free tickets to all players who were able to use them and get in a €100,000 Freeroll. Their method of giving out tickets to those is quite smart. If you are a verified player you receive some tickets straight away and then you can get some more by being active and playing a certain number of hands/games or using your miles and purchasing them.
Sports Betting
Winamax also offers online sports betting action. And since their betting promotions are pretty good, even if you are not into sports, you should still use them because of good value. Many sports betting lovers hate when they are being limited for winning too much while as far as we know, this has not happened to players on Winamax. There are various sports events available for Basketball, Golf, Tennis, Ice Hockey and others, but most of them are in the Football section. So if you are a big football fan, you will love it.
Review Summary
Winamax Poker Site has an extremely good MTT schedule and prize pools for low-medium limit players. It is also famous for poker Spin & Go (Expresso) games, but we have information that Winamax does not do its best to eliminate players who use forbidden third party software to win more in these games. Winamax had an opportunity to be one of the best poker sites in the market but took a step back and now mainly focuses on the French market. If you want to try something else, then check out our GGPoker review!