Poker Tracker Guide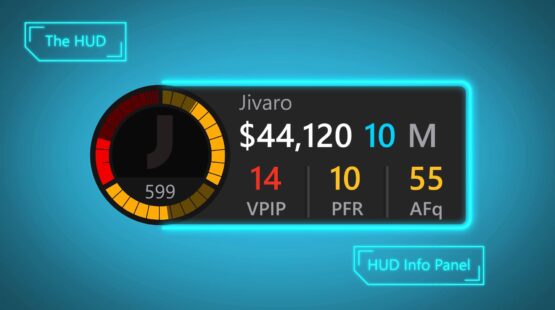 The game of poker has changed a lot in the last couple of years and players are looking for every other way to keep themselves a step ahead in the game all the time. And this is where a poker tracker can be of huge help as it provides you with valuable information about your gameplay as well as your opponents too. Online Poker HUDS (tracking software) can help a lot for both a newbie and a regular player.
If you are a beginner or playing the game occasionally, then the first thing you need to learn is the basics of the game, but if you want to know how poker professionals think, then you may need some outside support. With the help of poker tracking software, even an average player becomes much more competent and that is the reason you can find most games very tough.
Why Poker Tracker is a Game-Changer
If you are looking to make money from poker, then analysis and review are extremely important. It helps you to understand your game and keeps you ahead of the curve all the time. Have you ever looked back and the last hand you played? Or even analyze what went wrong in the last hand and how your opponents reacted or his natural tendencies in the game?
Maybe not, but if you want to take your game to the next level, then it is time you look at some of the best poker tracking software like flopzilla, notecaddy, equilab, jivaro, icmizer etc. These tools provide you with valuable information about every session that helps you to learn from your past mistakes and improvise your gameplay.
Advantages of using a Poker Tracker
Helps in tracking your every hand during your gaming sessions
Logs all your wins and losses
Provides information about your best and worst hands
Allows you to record your best hands and watch them later
Helps you identify leaks and weaknesses in your game that might not be easy to spot without the software
Provides you information about all your bets, raises, flops and every aspect of your game

Playing Too Many Hands
One of the important aspects of using poker tracking software is that it records every hand you play and gives you a detailed statistic that can instantly let you know whether your gameplay is normal or whether you seem to play too many hands than normal.
The poker tracking software provides you with every information about how many hands you play, your raises and other statistics. You can even compare your stats with other winning players to get an idea of where you are going wrong. Even though your style of gameplay may be different from others, but it is also important for you to self-analyse your game with the winning hands to see where you deviate from others.
But this can be a bit tricky as every player is different as some may opt to 3-bet every other time while some may opt for a safe play. Hence, while comparing the statistic with winners may not be a leak all the time, but in case you are struggling to win or not playing up to the level required, then these stats might be just the start you wanted to improvise on your gameplay.
Track Your Opponent's Gameplay
With the help of poker tracking software, you can easily get an idea about how your opponent's approach the game allowing you to study their gameplay and exploit the weaknesses in their game.
Some poker tracking software also allows you to mark hands that you think are pretty tough so that you can analyze them later or discuss with your friends what different strategy you could have used. Marking and reviewing is an important aspect of poker tracking HUDs since it helps you to revisit your game and analyze your strengths and weaknesses.
Even though not everyone playing poker seek the help of a poker tracking software, it could be quite helpful if you are serious about improving your gameplay or want to know your weaknesses are during the game.
Important Poker Statistics You Need to Know
When it comes to using poker tracking software, you must know the basic poker statistics used in the game. Only when you have a basic idea of the widely used statistics can you be able to get better results from the software. These stats help you understand more about your gameplay and also to improvise it for the better.
The game of poker can be either easy or tough based both on your gameplay and the skill level of your opponents. And with the help of the data provided by these HUDs, you can improvise your gameplay as well as observe the style of your opponents and use it to exploit their weaknesses.
VPIP – Voluntarily Put Money in Pot
VPIP is the statistic that provides you with information about the percentage of hands a player bets in the pot. It doesn't take into accounts your blind postings and even your raises and calls, but only the bets you placed voluntarily in the pot.
Players having a VPIP score of around 13-26 do not always have a good hand, whereas players having scores lesser or greater than that range can be termed as either too tight in the game or wayward in placing bets. Some players might still win hands even if they have scores above this range, but it is often recommended to stick to this score if you want to achieve optimal results.
PFR – Pre-Flop Raise
Pre-Flop Raise (PFR) is the term associated with the statistic that measures the percentage of raises made by a player before the flop.
It is generally seen that aggressive players who sit mostly on 9-max and 6-max tables have a PFR score of around 8-22% or 1/2 or 2/3 of their VPIP score. So any percentage below this score means you are very passive in your game and a score above this range means that you are very aggressive.
And it also becomes easy for your opponents to read your moves when your score falls below the recommended percentage. Take, for example, if your score is anywhere near 6-7%, then any professional can easily guess that the options that you mostly bet on are only A-Ks, A-Js, A-Qs and AA-99s. And they can easily come up with a plan against you quickly.
WTSD – Went to Showdown
WTSD is another important statistic that tells you about the strength of your opponent or yourself after the flop. The stat lets other people know whether you are a showdown or have weak hands. It also tells you whether you are folding your hands most of the time or too tight. Generally, if you have a WTWD percentage of around 25-30%, then you are good.
WSD – Won Money at Showdown
This stat tells you the percentage of wins you get after a showdown. To be on the safer side, you should target a WSD percentage of anything above 50%. And if your percentage is lower than 50%, then you need to watch your showdowns preferably over weak hands.
AF – Aggression Factor
The aggression factor reveals how much aggressive you are during the gameplay. The basic formula to calculate your aggression factor is using
(Bet % + Raise %) / Call %
If you have an AF score of between 1.5- 4%, then you are good and winning and any less that means you are too passive or if you have scores above 5% and higher means you are too aggressive and need to slow down.
3bet – Three-Bet
The 3-bet statistic lets you know about the percentage of re-raises you make before the flop. Generally, the 3-bet score needs to be low and should be anywhere around 3-8%. If your score is low, then your opponents can easily gauge your holdings quickly.
ST – Steal
Steal is a strategy adopted by players to raise during their first betting with just an inferior hand forcing other players with a superior hand to fold. The Steal statistic will reveal the percentage of Steal scores of your opponent that will instantly let you know if the opponent plays the bluff game a lot.
FTS – Fold to Steal
Fold to Steal is the opposite of Steal, where when you fold even with a superior hand because of a bet raised by your opponent with a weaker hand.
Poker Tracking Software Review
Everything has two different sides to it, and it all depends on how you choose to use it to your benefit. Even though poker tracking software can be boon to people looking to improvise their game or find out their weaknesses in their game, it still has its disadvantages. Let's see in detail both the pros and cons of using poker tracking software below:
Keep a record of your poker hands and odds, review gameplay
Vital gameplay statistics
Can make you lazy and over-dependent on the software
Can be difficult when playing live poker without the assistance of a poker tracking software
Best Poker Software and Tools
The market is filled with a lot of poker tracking software that you may find it a bit tough to choose the best one that suits your requirements. So to make the job easier, we have provided below the best poker trackers to help you come to an informed decision. In this guide we will be reviewing these online poker trackers:
Holdem Manager 2

Jivaro

IcMizer 2

Flopzilla

Poker Tracker 4

Equilab

Sharkscope

PioSolver

Poker Copilot

DriveHUD
Holdem Manager 2
Holdem Manager 2 is an award-winning poker tracking software that can list out every other possible stat you could imagine in Poker. It is unarguably one of the most popular poker tracking software as of today and one of the notable features in the software is the Heads Up Display (HUD) that provides vital information about your opponents in the table.
It provides all details about how often your opponents place 3-bets, pre-flops and continuation bets which will give you a clear idea about your opponent and play accordingly. The software automatically records every hand you play allowing you to revisit it later to see where you went wrong and how you can improvise your gameplay etc.
Good Poker Tracker
Powerful Database
Integrated Apps
Unique Features
In-Depth Post-Game Analysis
What we don't like:
Large Piece of Software
Expensive
Not Mac-Compatible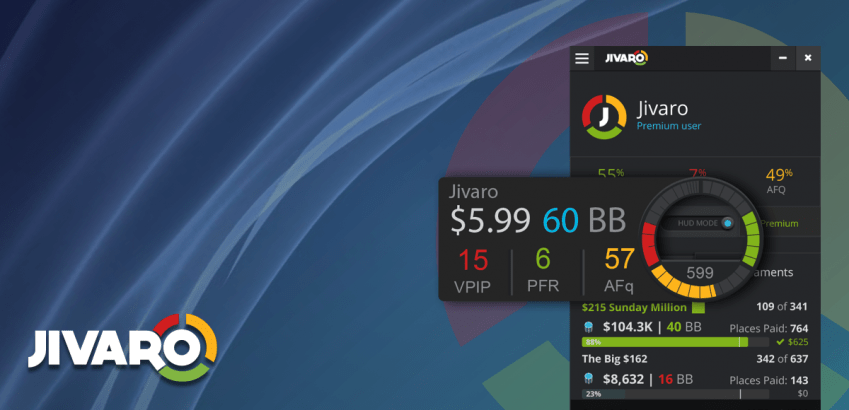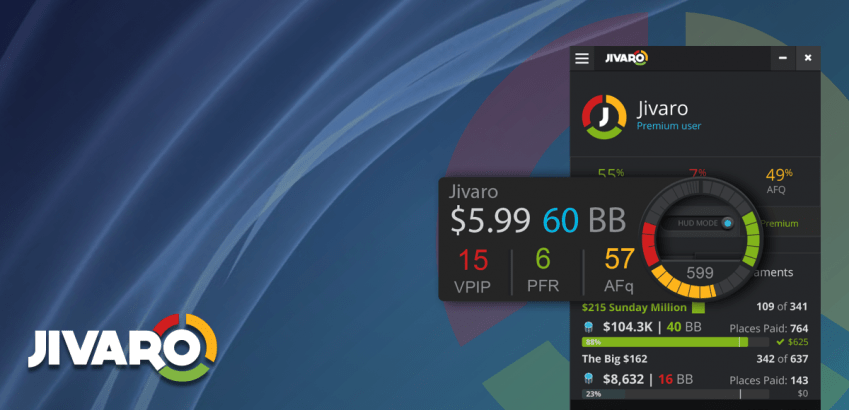 Jivaro
Jivaro is relatively a new entry into the poker HUD industry and caught the attention of the poker players immediately with its easy to use software with excellent graphical indicators and simple configuration and setup. Jivaro is a street-smart HUD that shows you stats based on the stage of your hand so that you are not dumped with too much information. With this, Jivaro has addressed the problem with HUDs, as you don't need to scan through all the details to find the one little information you may need like the opponents' pre-flop strategy. Too bad that it currently only works on the PokerStars site.
Very simple to use
Outstanding design
Accessible
Affordable Price
Not available for Macs
Limited stats
Very limited poker sites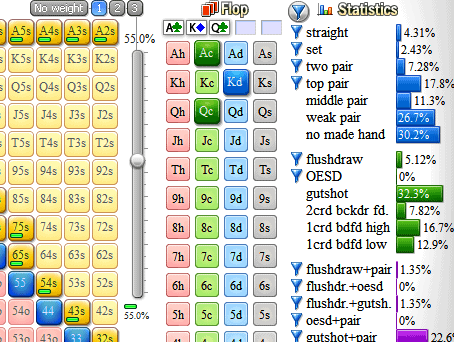 Flopzilla
Flopzilla is one of the most essential tools needed for any serious poker player as it is one of the best poker calculators in the market as of today. The Flopzilla is a tool that uses a mathematical algorithm based on the various preflop combinations and quickly calculates the odds on the possible hands you can bet on. Even though the software may seem too technical in the beginning, but once you start using it, you'll start plugging in all ranges and calculating your odds like a professional poker player. The software is useful not only for basic game types but also Spin & Go.
Poker Tracker 4
When it comes to the best poker tracking software, Poker Tracker 4 is indeed one of the best software available in the market as of now. If you are serious about winning online poker and making some money out of it, then you should certainly take a look at Poker Tracker 4, the best HUD used by many online poker professionals. The HUD (Heads Up Display) displays important details about your opponents right below their names on the poker table. It gives you all the data you need about your opponents and helps you make an informed decision about whether to raise or fold.
Light Software

Versatile HUD

Lots of useful Features

Competitive Pricing

Available for Hold'em and Omaha

Good for Spin & Go games

Basic Design

Fewer Add-Ons

Not Compatible with all Poker Clients

Not many Analytical Tools
Poker Strategy Equilab
Equilab is an equity tool from Poker Strategy that calculates your odds of winning the pot. All you need to do is provide your poker hand details versus a range and the odds will appear right in front of you. It is also an invaluable tool that takes away the headache of doing all the math calculations in the background and presents you with the odds. And it is up to you to decide the further course of action based on the odds provided. And the best thing about Equilab is that it is completely free.
ICMizer 2
If you are looking for the best GTO software in the market, then ICMizer 2 stands well on top of the list as it gives you mathematically calculated solutions for every push/fold scenario. With ICMizer 2, you can even import a few hands from other software like Poker Tracker 4 or Holdem Manager 2 to provide a complete analysis of your hands. Another interesting feature is the SNG coach that comes up with a realistic game setting and gives you to help you master the push/fold gameplay techniques.
NoteCaddy
Another tool that captured our attention is Notecaddy, a simple but very promising poker software that can squirrel through the data from other poker tools like Poker Tracker 4 and Holdem Manager 2 and quickly come up with interesting notes. The interesting aspect is that it gives you complete control over how you need the notes to be displayed as the last thing you want is to be dumped with a lot of information which will lead to a lot of confusion. With NoteCaddy, you can easily colour-code your opponent's sitting right across the table.
SharkScope Desktop: HUD & Hand Tracker
Sharkscope Desktop tracking software is only available for paid members. However, every new user gets a trial version for the first 100 hands.
A combination of hand tracker & SharkScope website statistics
Supports cash games
An option to configure different SharkScope filters for different table types
Works with multiple poker sites concurrently
Price: from 12$ per month.
SharkScope HUD works with these poker sites and networks:
WPN sites such as AmericasCardroom
Merge Gaming Network
Betfair and other iPoker sites
PioSOLVER Review
PioSOLVER is a very fast GTO solver for Holdem. It handles post flop spots with arbitrary starting ranges, stack sizes, bet sizes as well as desired accuracy. It's the first in a new generation of tools moving poker from a game based mainly on intuition to a game based on analysis and math. PioSOLVER answers questions such as:
What should betting frequency on the flop be?
What hands are the best semi-bluffs on the turn? What hands are the best bluff catchers on the river?
Which c-bet size is the best to use on the flop?
It also calculates optimal strategies, exact values of every play in every situation and displays the results in the user friendly, easy to navigate PioVIEWER.
PioSOLVER makes navigating the solution tree a pleasure. Its features are designed to make it as easy as possible to comprehend GTO solutions, learn from them and analyze them. PioSOLVER is also very useful for Spin & Go games. We recommend it for serious high stakes poker players.
Poker Copilot 6 Review
Poker Copilot's tracker overlays player info directly on the poker table. You can instantly see how many hands you've played against an opponent, and how they have tended to play against you. A player's style is broken down into more than sixty poker statistics and these statistics are available to view directly on the poker table. Choose your favourite statistics to keep in view at all times, while the rest are a single click away.
Light and simple Software
Well Designed
Works on Windows and Mac
Compatible with All Major Poker Clients
Built-in Leak Finder
It may be expensive for some
Fewer Features than HEM 2 or PT4
Fewer Statistics than HEM 2 or PT4
DriveHUD Review
DriveHUD is a very cool and useful poker tracking software. If you want to try before you buy you can download a 30-day free trial. This HUD is currently a Windows only application but they claim that it is possible to run on Mac through compatibility programs.
Easy to use
Good-looking user interface
Good user manual and learning materials
Easy to create HUDs
Replay every session, and every hand you ever played with this poker HUD
Graph and analyse how unlucky or lucky you've been
Filter for any situation you can think of and analyze it with this powerful poker tracker
Player profile your opponents with ease so you know who the fish or sharks are
Runs on American poker sites such as Bovada/Bodog and Betonline poker
Spin and Go HUD Trackers
If you are playing Spin and Go games, you have to consider using additional tools such as Poker Trackers (HUDs) and additional software. Some of them are very helpful during the gameplay while the rest are used when you are not playing.
PokerTracker 4
Flopzilla
CardRunners EV (CREV)
PioSolver (expensive, for pros only)
Simple Nash (Free)
Equilab (Free)
StarsHelper
Poker Trackers work with these sites
If you plan on buying poker tracking software, make sure that it works for your favourite poker rooms. For example, PokerStars will allow all/most of these programs, while for example, PartyPoker does not allow any third party software at all. Other rooms like GGPOKER, also do not allow the use of HUDs (poker trackers) but have their own. This is the list of poker sites that allow players to use Poker Tracking software (HUDs), click on its name to check it out.
AmericasCardroom & BlackChipPoker (Cash Games Only)
Bovada (works with DriveHUD, USA/Latin America)
Conclusion
Hope this comprehensive guide about the best poker tracking software along with useful information about its benefits and the stats provided by these poker tools will help you take your game to the next level.