Online Poker Versus Live Poker
Categories:
Gaming
|
Published by:
Daniel Green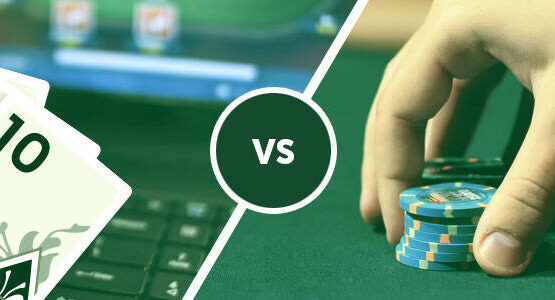 Poker is a game that is played in casinos all over the world. There are often high stakes and careful strategy involved, but along with the live poker games in physical casinos, there is also online poker in virtual rooms.
In the past, those that played live poker were often scornful of those that played the online version. They would also claim that online poker wasn't the same game, or as challenging as the live game, which they consider a sport. However, now, there is more crossover between online and live poker.
What are the differences between online and live poker games, and which one would be best suited to a person looking to play for the first time?
Size of the Bets
With online poker, there is often a tendency to bet smaller than in a live game. For example, you may see online players betting 2x or 3x, but in live games, there can be bets of 6x or more. This will often come from the more inexperienced players.
Calling or Folding
There can often be a lot of embarrassment for players that 'call' when in a live match if they have guessed wrong. This added pressure means there is often more folding than calling in live games. Because online poker games have a 'Call' button, they feel it is easier to call. Also, there is less embarrassment as they are not sitting in a live game with the other players.
Live games will often provoke good strategy because there is palpable pressure. This casino winning strategy is often what online players develop slower than those that take part in live events.
The pace of the Game
One of the big differences between online and live poker is speed. Online poker is often a lot faster, with up to 60 hands being dealt per hour compared to 30 per hour in live poker. Online players that play live games will often find it slow by comparison, and not as thrilling.
Multi-Table Poker
One reason online poker is faster is that you can play multiple tables at once. This isn't possible in a live game and can be a big attraction for players that like a fast-paced game. Conversely, players who prefer the live game can feel pressured to play at a faster pace. This can upset their strategy and cause them to take more risks.
Variance
Poker is all about variance when it comes to winning and losing. Usually, you want this variance to favor the gains, but ideally, it should even itself out over a period of time.
However, with online poker, this variance can be warped by the speed at which the game runs. You can easily play twice the number of games online in an average week than you can in a live game. This means the variance will differ and potentially become less accurate.
Convenience
One of the major reasons people play online poker is convenience. With a live game, you have to get to the venue, anticipate how long you will be there, and perhaps arrange hotels or other accommodation.
With online poker, there is no need for any of this, you can relax at home with your mobile device or laptop and play for as long as you want to. There is also less pressure on you to stay because you haven't made specific plans to play at that time.
Poker Tells
Many players that prefer live poker will say that being able to see their opponents is an important part of the game. Seeing these 'physical tells' can be a good indicator for players, especially those who are inexperienced and give too much away. Online poker doesn't have this connection to help you. Some feel this makes online poker harder, while others believe it spoils the atmosphere of the game.
Flexibility
Although you will have a number of tables to choose from in a live game, there will never be a huge choice that online poker games can offer. With so many online casinos now operating, you can move between casinos quickly and with no effort on your part.
While this might seem insignificant, it means players can change casinos and tables if they feel it will improve their game or they want to be with different players.
There will always be a divide between online poker and live poker games. However, more people are starting to appreciate what each one has to offer, which means more players utilizing both.