How Cristiano Ronaldo Is Raising His Sons For Success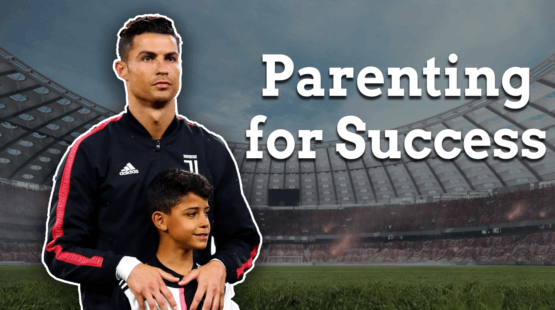 The GOAT Cristiano Ronaldo has made his mark in football. There are very few other footballers in the world who compare in talent to him. Holder of five FIFA Ballon d'Or awards, Cristiano is the only European footballer to have achieved such success. Desirous of a big family of seven, Cristiano Ronaldo currently has four children; Cristiano Ronaldo Jr, Eva, and Mateo Ronaldo, and Alana Martina. Everyone is aware of how talented he is on the field, but what is he like as a Father?  Read on to find out more about his children and parenting style.
Family Man Through And Through
Cristiano is the most followed sports celebrity on Instagram and regularly shares snippets of his life with his fans. It is hard to miss how involved he is with his family. 
Cristiano settled down with Spanish model Georgina Rodriguez in 2016. It was love at first sight. They have been together for five years and share one daughter, Alana Martina. Apart from Alana, Cristiano has three other children. Cristiano Ronaldo Jr is his oldest son born to a surrogate mother whose identity has been kept under wraps as per her request. His other two children, twins Eva and Mateo Ronaldo, were also born via surrogacy to an anonymous woman. 
Cristiano always wanted to become a young father and had Cristiano Ronaldo Jr at the age of 25. In an interview, he disclosed that he chose to become a father at a young age so that he could be involved in his children's lives and see them grow up. In 2017, he welcomed Eva and Mateo Ronaldo in June and then Alana in November, whose twin brother died tragically. Becoming a father of four in the short span of five months made him ecstatic since he always wanted a total of seven children.
A Special Relationship With Cristiano Ronaldo Jr. And Mateo Ronaldo
In his social media updates, Ronaldo is often seen fawning over his children showering them with affection. He is especially involved with his sons Mateo and Cristiano Jr. and is frequently seen playing football with them. 
Cristiano Jr., who is now 12 years old, is already following in his father's footsteps. He scored a total of 58 goals while playing matches for Juventus's youth team and has moved on to join the ranks of Manchester United's youth team. Since he was an only child for seven years, Cristiano Jr. got to spend a lot of quality bonding time with his father. The love between father and son has translated into Cristiano Jr.' love for football, which combined with his innate skills, has made him unstoppable in the junior leagues. However, Ronaldo feels like his son has a long way to go still.
Although only 5 years old, fans have observed that Mateo Ronaldo has a strong right foot and has a vision for the goal, just like his father. Ronaldo has even taught him his legendary 'Siuuuu' celebration move for when he scores a goal. There is no doubt that Mateo will most likely follow in the footsteps of his father and big brother.
Parenting To Make Winners The Ronaldo Way
For Papa Ronaldo, raising his children to become successful in life is very important. So how is he raising his children to become winners?
1. Good Nutrition Is At The Core Of Success
For starters, no junk food. Cristiano's disdain for junk food is no secret. He removed two Coca-Cola bottles from his table during Euro 22, a move that cost the company $2.6bn dollars in valuation. In the Ronaldo household, Papa Ronaldo highly disapproves of anything junk except for well-deserved cheat days. "It's important to look after your nutrition", he says. Even his little children skirt around him when they are having sweets. 
2. No Pain, No Gain
Papa Ronaldo's second rule for success is exercise. He engages his children regularly in outside play. Cristiano Jr. also does running time on the treadmill with his father in their home gym regularly. On the other hand, 5-year-old Mateo frequently kicks the ball around in the garden with his father. Ronaldo tries his best to not push his sons too hard given their ages. However, physical fitness is a top priority in his household.
3. Hard Work Is The Only Path To Victory
Ronaldo actively tries to instill a sense of purpose in his children.  According to him, the value of hard work and humbleness are necessary to develop good character. He took Cristiano Jr to visit his childhood home in Lisbon to impart an important lesson to his son. "They think it all just fell from the sky", says Ronaldo to TVI about his children's lifestyle. "These things don't just come from talent, but with lots of hard work and effort you can achieve anything". 
In fact, Khabib, UFC champion and close friend of Cristiano Ronaldo, disclosed in an interview that "When Cristiano was a child he only dreamed of having a pair of boots. His son, on the other hand, has everything. He is afraid that he may not have the same hunger, the same will. People are guided by that will. Feel the desire to achieve things. When you have everything, it is difficult to find the right motivation." 
For this purpose, in the Ronaldo household, access to technology is also limited. None of his children have personal phones and it is preferred that they focus on activities that engage their bodies and minds. 
What Matters Most
Ronaldo is a very involved and doting father. Even though he is strict with his children, he has their best interests at heart. As a father, he realizes that by spoiling his children with a luxurious lifestyle he will hinder them from attaining their full potential. It doesn't matter if Mateo Ronaldo and Cristiano Ronaldo Jr. follow in their fathers' footsteps and become football prodigies. What matters most is that they become the best at what they do in life. That is all Ronaldo wants for his children.